27.10.2017 | Ausgabe 2/2018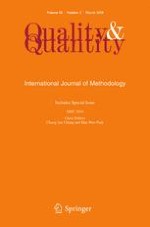 Social media, trust, and disaster: Does trust in public and nonprofit organizations explain social media use during a disaster?
Zeitschrift:
Autoren:

Brian D. Williams, Jesus N. Valero, Kyungwoo Kim
Abstract
This study seeks to understand public trust as a factor that compels citizens to utilize social media in the midst of a disaster. More specifically, we explore whether the source of trustworthy information explains variation in the use of social media as an avenue of communication. In order to test this relationship, we draw on previous social media and emergency management research and utilize data from a 2012 survey conducted by the American Red Cross. First, descriptive results indicate that citizens are more likely to report that friends and family are their preferred source of trustworthy information as opposed to local emergency officials and U.S. federal agencies (such as FEMA) or official non-governmental organizations. However, when only official organizations are considered, citizens are more likely to use social media during a disaster when their source of trustworthy information derives from local emergency officials. Additionally, when the public has used social media during a disaster, the need for trust may not disappear but is not as significant to the use of social media during a disaster. These results suggest that local public organizations should invest efforts in building the public's trust to ensure that critical information is efficiently disseminated and accessed by citizens over social media when disaster strikes. In summary, as more trust in local emergency management increases, use of social media in a disaster is expected to increase. As public use of social media during a disaster increases, more of the public can be reached to increase the effectiveness of protective actions during a disaster.