2014 | OriginalPaper | Buchkapitel Open Access
19. Social Protection, Marginality, and Extreme Poverty: Just Give Money to the Poor?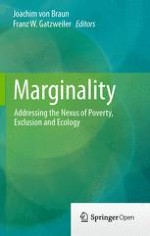 Autoren: David Hulme, Joseph Hanlon, Joseph Hanlon, Armando Barrientos
Verlag: Springer Netherlands
Abstract
Social protection programs, especially cash transfer programs, have spread across low- and middle-income countries since the beginning of the millennium, and are increasingly part of national development strategies to assist the poor and particularly the poorest. This chapter lays out a wide range of debates about the specific goals, targets, and conditions of social protection and cash transfers. While there is no single best program option, the authors identified five overriding principles for effective efforts. Thus social protection programs and cash transfers work best when they are: fair, assured, practical, large enough to impact household income, and popular. These principles need interpretation at the national level, because no model can be automatically transferred from one country to another.