01.04.2015 | Social Science and the Public Interest | Ausgabe 2/2015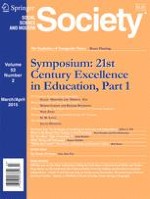 Social Science and the Public Interest
Zeitschrift:
In a seventy-seven page report commissioned by the American Enterprise Institute and compiled by Karlyn Bowman, Jennifer Marsico, and Heather Sims, public attitudes about the American dream are presented and assessed. The polling about the American dream has been conducted over the past three decades. As the authors point out, "This AEI Public Opinion Study is the most comprehensive collection of survey data from major pollsters on the topic, organized in sections that deal with various aspects of the dream." They are careful to acknowledge that such survey data over time has not been consistent in terms of questions asked, but they are able to conclude the following:
Americans, by and large, believe that they can achieve their own version of the American Dream, and it is a personal vision. This view has changed little over the past 30 years. While a small group of skeptics exists, the average American believes that this is still a country of opportunity where personal success—material or otherwise—can be achieved with hard work and a little bit of ingenuity.

People think the challenges to achieving the dream are greater than in the past.

The key elements of the dream—an education for oneself and one's children and freedom to live life on one's own terms—still rank much higher in terms of priority than becoming wealthy.

Americans continue to be more confident about their own children's prospects for achieving the American Dream than they are about the prospects of children overall.

In 1986, whites were more optimistic than nonwhites about the American Dream. Today, whites in some polls are less confident than blacks and Hispanics about being able to achieve selected aspects of the American Dream.
...