2018 | OriginalPaper | Buchkapitel
8. Socio-economic Failure Pathways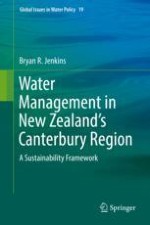 Erstes Kapitel lesen
Autor: Bryan R. Jenkins
Verlag: Springer Netherlands
Abstract
Unlike biophysical systems which follow natural processes, socio-economic systems are man-made. Institutional arrangements and management approaches are typically designed for a purpose and can be modified as circumstances change. In discussing socio-economic systems , not only are the current designs described but also the changing circumstances and innovations in institutional design concepts are considered. Circumstances have changed in Canterbury since the current institutional arrangements were designed in the 1980s.
Recommendations for changes in governance arrangements have been identified through the Canterbury Water Management Strategy and the Land and Water Forum . Furthermore, concepts of democracy have been developed, such as deliberative and monitory democracy , to address the shortcomings of representative democracy. A key change in Canterbury has been the shift from water as a relatively abundant resource to being a scarce resource, i.e. a common pool resource, for which self-governing communities have been demonstrated as the most effective governance arrangements . In other countries shifts from effects-based regulatory approaches to collaborative arrangements are occurring. Involvement of Māori in water governance and management is increasing leading to changes in institutional arrangements .
The shift from central government as the builder of irrigation infrastructure to reliance on the private sector has led a number of issues, such as, the contributions of infrastructure projects to restore ecological health and recreational amenity, and, the co-ordination of infrastructure for integrated water management.
The reliance on regulation to achieve compliance with environmental requirements has not been fully effective. Furthermore, voluntary environmental programmes have led to some improvements but have been inadequate to achieve environmental results. In Canterbury, this has led to the development of a spectrum of regulatory and voluntary approaches as well as the introduction of audited self-management to deliver the achievement of environmental outcomes.
At the individual level regulatory approaches are dependent on the effective exercise of authority. However, behavioural change at the individual level can also be achieved through motivation . Furthermore, the value of water is more than its utilitarian worth. There is a need for individual commitment to a water ethic to respect its significance to natural systems and other human values.