2018 | OriginalPaper | Buchkapitel
14. Socio-economic Issues and Collaborative Governance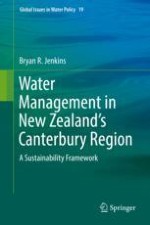 Erstes Kapitel lesen
Autor: Bryan R. Jenkins
Verlag: Springer Netherlands
Abstract
Collaborative governance has evolved through four stages in Canterbury: an experimental stage at the tributary and catchment scale, the regional strategy, the development of zone implementation programmes, and an operational stage that has just commenced. As water management moves from strategy to implementation programmes and then operations there is a trend of decreasing dominant spatial scale (from regional to subregional to catchment/irrigation district), increasing formality from (from non-statutory to statutory), and, decreasing scope of decision (from all issues, to ten target areas, to selection of management approach). There are a number of unresolved issues. While solution packages for water quality management devised by Zone Committees will improve water quality compared to current management, they will not achieve desired community water quality outcomes. There is a need for institutional arrangements and funding mechanisms to provide regional infrastructure for improving water quality and achieving infrastructure coordination.
While there has been significant progress against many strategic targets, some have not been achieved. This includes recreational and amenity opportunities , economics of externalities, the economic value-added contribution of water, costs of restoration, and habitat protection for freshwater species and river birds. The failure to address issues that are the prime concern of some stakeholders has undermined trust in the collaborative process and the accountability of the governance of the regional council leading to disengagement of some groups from the collaborative process.
Water management issues in Canterbury have changed since the RMA was designed in the 1980s. The concept of sustainable development has also evolved since then. Changes in legislation and institutional arrangements are needed to address these changes. This includes water framework legislation , regional management strategies, strategic assessments and project authorisations consistent with water strategies. In New Zealand, water charging is based on recovery of financial costs involved in water supply. There is a need for mechanisms to internalize environmental externalities and economic opportunity costs associated with issues such as water quality impairment and inefficient water use. Zone committees have limited recommendations for on-farm mitigation to what they consider "affordable " for farmers. The means of funding solution packages and infrastructure is yet to be addressed.
The reliance on Section 32 reports on whether regional plans meet the purpose of the RMA and the assessment of environmental effects for proposed activities are not sufficient to achieve sustainable development. There also needs to be strategic assessments involving sustainability appraisal for defining acceptable development.