16.11.2017 | Ausgabe 1/2018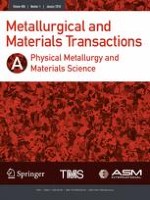 Sodium Aluminate Concentration Effects on Microstructure and Corrosion Behavior of the Plasma Electrolytic Oxidation Coatings on Pure Titanium
Zeitschrift:
Autoren:

Maryam Molaei, Arash Fattah-Alhosseini, Seyed Omid Gashti
Wichtige Hinweise
Manuscript submitted December 15, 2016.
Abstract
Sodium aluminate (NaAlO2) concentration was varied in order to understand the influence of the chemical composition of electrolyte on the spark characteristics, microstructure, and corrosion behavior of plasma electrolytic oxidation (PEO) coatings. For this purpose, PEO coatings were formed on the pure titanium substrate surface using solutions of four diverse sodium aluminate concentrations (6, 8, 10, and 12 g/L). The PEO process was carried out at constant time and voltage (180 seconds and 420 V). Studying the microstructures of samples by scanning electron microscope (SEM) and their corrosion behavior in 3.5 wt pct NaCl solutions indicated that the increase in NaAlO2 concentration (up to 10 g/L) led to an increase in uniformity and compactness, thus decreasing the size of micro-pores and increment of corrosion resistance. However, at a certain level of NaAlO2 concentration (12 g/L), large and severe sparks were created on the surface of the sample during the process, worsening the corrosion resistance and microstructure of coating.