06.01.2020 | ORIGINAL ARTICLE | Ausgabe 3/2020 Open Access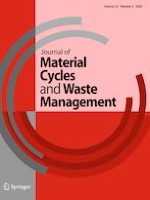 Sodium dodecyl sulfate improves the treatment of waste paper with rumen fluid at lower concentration but decreases at higher condition
Zeitschrift:
Autoren:

Shuhei Takizawa, Yasunori Baba, Chika Tada, Yasuhiro Fukuda, Yutaka Nakai
Wichtige Hinweise
Publisher's Note
Springer Nature remains neutral with regard to jurisdictional claims in published maps and institutional affiliations.
Abstract
Rumen fluid has been applied to lignocellulosic biomass digest for methane production, and various feed supplements have been shown to improve ruminant digestion of lignocellulosic biomass. Therefore, we investigated the effects of sodium dodecyl sulfate (SDS) on the pretreatment of lignocellulosic biomass with rumen fluid and subsequent methane fermentation. SDS was mixed with rumen fluid at concentrations of 0.1, 0.2, 0.4, and 0.8 g/L. After SDS addition, the waste paper was pretreated with rumen fluid at 37 °C for 6 h. SDS addition decreased the number of surviving rumen ciliates after pretreatment. SDS addition increased the dissolved chemical oxygen demand during pretreatment; however, SDS addition did not increase the volatile fatty acid concentration. After pretreatment, batch methane fermentation of pretreated waste paper was performed at 35 °C for 45 days. SDS addition at 0.1 and 0.2 g/L shortened the waste paper digestion time and enhanced methane gas production compared to the control. By contrast, SDS addition at 0.4 and 0.8 g/L remarkably inhibited methane production from waste paper. These findings suggest that low concentrations of SDS can improve the efficiency of lignocellulosic biomass pretreatment with rumen fluid, and can enhance methane production from waste paper.