2014 | OriginalPaper | Buchkapitel
Software Engineering with Petri Nets: A Web Service and Agent Perspective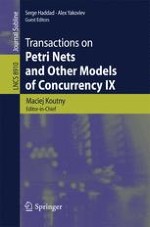 Erstes Kapitel lesen
Autoren: Tobias Betz, Lawrence Cabac, Michael Duvigneau, Thomas Wagner, Matthias Wester-Ebbinghaus
Verlag: Springer Berlin Heidelberg
Abstract
The context of this paper is given through a software engineering approach that uses Petri nets as executable code. We apply the particular understanding that Petri nets are not only used to model systems for design purposes but also to implement system components. Following this approach, we develop complex Petri net-based software applications according to the multi-agent paradigm. Agent-internal as well as agent-spanning processes are implemented directly as (high-level) Petri nets. These nets are essential parts of the resulting software application – alongside other parts (operational and declarative ones), which are implemented using traditional ways of programming.
One of our goals is to open our Petri net-based agent framework
Mulan
/
Capa
so that multi-agent applications can communicate and interact with other systems – especially with Web-based applications. With this intention, we present a gateway solution to enable Petri net-based applications to access Web services as well as to offer Web services to other applications: the
WebGateway
. In addition to describing the WebGateway extension itself, we use its presentation to demonstrate the practicability of the Petri net-based software engineering approach in general. We emphasize the benefit of having Petri net models serve as conceptual models that progressively refine the constructed system from simple models to well-defined specifications of the systems. This improves the understanding of the systems.