2018 | OriginalPaper | Buchkapitel Open Access
Software Tester, We Want to Hire You! an Analysis of the Demand for Soft Skills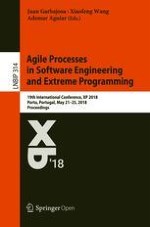 Autoren: Raluca Florea, Viktoria Stray
Abstract
One important discussion in the software development field is related to the skills that people need to have to build successful software products. This debate is generated on one hand by a large number of failures and delays of software projects. On the other hand, the debate is triggered by the need to build even better-quality software in a rapidly changing world. We will examine to which extent soft skills are relevant when hiring software testers and if there are any specific skills required for agile testers.
We analyzed 400 job advertisements for testers from 33 countries, out of which 64% ask for soft skills. Of the advertisements asking for soft skills, there is, on average, a request for 5 soft skills, 11 testing skills, and 5 technical skills. Only 30% of the companies ask explicitly for agile testers. However, our analysis shows no notable differences in skill demands for agile testers and the rest.
Software companies want to hire testers who can communicate well and have analytical and problem-solving skills. There is a significant increase in the need for openness and adaptability, independent-working and team-playing since 2012. In addition, there are new categories of soft skills identified, such as having work ethics, customer-focus and the ability to work under pressure.