01.01.2014 | Original Article | Ausgabe 2/2014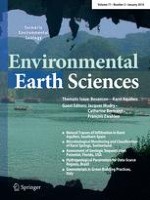 Soil-hydrological properties response to grazing exclusion in a steppe grassland of the Loess Plateau
Zeitschrift:
Autoren:

Tie-Niu Wu, Gao-Lin Wu, Dong Wang, Zhi-Hua Shi
Abstract
Soil–water characteristics are necessary for water quality monitoring, solute migration and plant growth. Soil–water characteristic curve (SWCC) is a relationship between suction and water content or degree of saturation. However, little information is available concerning the impacts of grazing exclusion management on soil–water characteristics. Here, the soil–water characteristics of grasslands, which were excluded grazing for 5 (GE5) and 15 years (GE15), were studied. The saturated hydraulic conductivity (
K
s
), SWCC, particle composition, field capacity and some other indexes were determined. Results showed that the clay content and
K
s
of grassland soil were higher for GE15 than GE5. For both treatments, in low suction condition (≤100 kPa), the water holding capacity of 0–10 cm soil was the best. Water holding capacity of topsoil decreased gradually with the increasing of suction, and it reached the strongest when the suction reached 600 kPa. In all soil water suction, the water holding capacity of subsoil was the weakest. The van Genuchten expression was applicable for most of the samples, except 20–30 cm of GE5 and 10–20 cm of GE15. Dual porosity equation was applicable for all the samples. The soil–water capability and soil structure of which was fenced for 15 years is superior to that of 5 years. This study suggests that the enclosure management improved the soil structure and soil–water capability.