2017 | OriginalPaper | Buchkapitel
8. Soil Loss and Sediment Yield of the Haora River Basin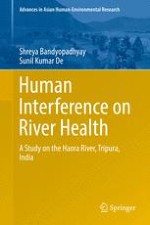 Erstes Kapitel lesen
Autoren: Shreya Bandyopadhyay, Sunil Kumar De
Abstract
The potential soil loss of the Haora River basin has been calculated by using four physical parameters in Revised Universal Soil Loss Equation (RUSLE) method, i.e. (i) rainfall erosivity, (ii) soil erodibility, (iii) slope length and (iv) slope steepness. The minimum potential loss is found in the plain areas and also along the river course (0–3000 tons.ha−1.year−1). The maximum amount of potential soil loss is found in the steep slope area where the rate is more than 9000 tons.he−1.year−1.
Actual soil loss of the Haora River basin has been estimated by multiplying the land cover–land use and adopted conservational practice map with potential soil loss map. More than 250 km2 area of the basin is having very less amount of soil loss (<150 tons.ha−1.year−1). On the other hand, there is only 45 km2 area which is experiencing high rate of soil erosion (>1500 tons.ha−1.year−1) and can produce soil maximum of 120,000 tons.year−1.
The rate of sediment yield has been estimated from the sediment delivery ratio (SDR) method. From this method, the maximum amount of sedimentation is found along the river courses (>4500 tons.ha−1.year−1), but in the steep hilly areas the sedimentation rate is approximately zero. The trend of estimated sediment yield is quite matching with the field generated data. From their comparative graph, it is found that the difference is positive in the years 1991, 1993, 2003 and 2007 which are well marked as flood year. In the rest of the years, the difference between observed and estimated sediment seemed to be negative.