01.08.2014 | Original Paper | Ausgabe 2/2014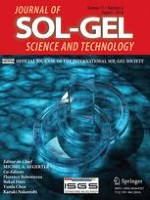 Sol–gel derived near-UV and visible antireflection coatings from hybridized hollow silica nanospheres
Zeitschrift:
Autoren:

Jing Zhang, Pinjun Lan, Jia Li, Hua Xu, Qin Wang, Xianpeng Zhang, Liren Zheng, Yuehui Lu, Ning Dai, Weijie Song
Abstract
This paper reports a facile means to gradually tailor refractive index from an ultra-low-
n
of 1.10–1.45 based on hollow silica nanospheres hybridized with acid-catalyzed silica. The influences of the hybridization on refractive index, thin-film uniformity, and roughness were systematically investigated. The single-layered antireflection (AR) coatings and the three-layered AR coatings were prepared using the hybridized thin films as building blocks. The former showed the near-perfect transmittance and reflectance, 99.16 and 0.42 %, respectively, at a single wavelength of 600 nm, while the average transmittance (
T
ave
) and reflectance (
R
ave
) from the near ultraviolet (UV) to the visible region (300–800 nm) were moderate; the latter demonstrated an excellent AR capability in broadband that
T
ave
reaches 97.29 %, much higher than that of the single-layered AR coating, 95.86 %. More interestingly, the three-layered AR coating showed an average transmittance of 97.94 % in the near-UV wavelength range from 345 to 400 nm and it was 6.77 % higher than that of bare glass. Moreover, the three-layered AR coatings had the less degradation in transmission and surface morphology after the highly-accelerated temperature and humidity stress tests, and the wet abrasion scrub tests. The findings imply that both good optical performance and durability are likely to be achieved using the sol–gel derived multilayered AR coatings.