15.02.2019 | Original Paper: Sol-gel and hybrid materials for energy, environment and building applications | Ausgabe 3/2019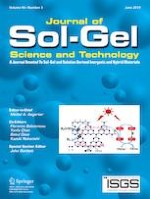 Sol-gel mediated synthesis of silica nanoparticle from
Bambusa vulgaris

leaves and its environmental applications: kinetics and isotherms studies
Zeitschrift:
Autoren:

Kaliannan Durairaj, Palaninaicker Senthilkumar, Palanivel Velmurugan, Kavitha Dhamodaran, Krishna Kadirvelu, Subramanian Kumaran
Wichtige Hinweise
Publisher's note:
Springer Nature remains neutral with regard to jurisdictional claims in published maps and institutional affiliations.
Abstract
The present investigation had made to synthesis of silica nanoparticle (SiNp) from
Bambusa vulgaris
leaves (BVL) ash by using sol-gel technique and it was utilized for the removal of Cadmium (Cd) and Congo red (CR) in aqueous solutions. Further, the synthesized adsorbent was characterized using instrumental techniques such as XRD, FTIR, FESEM–EDS mapping, TEM, BET, and Zeta potential. In addition, the batch mode technique (such as pH, adsorbent dose, and contact time) was carried out for optimization of Cd and CR removal. The adsorption behavior and capacity was calculated using different isotherms and kinetics. The obtained results of Cd and CR removal were optimized with following parameters such as pH 7, adsorbent dose (100 mg), and equilibrium time (30 min). Also, the adsorbent behavior was found suitable in Langmuir and Freundlich isotherm model and its maximum adsorbent capacity was 133 and 172 mg/g. The kinetic data were better fitted into the pseudo-second order model. The results concluded that the synthesized SiNp was the best adsorbent for the removal of metals, dyes and also economically sound techniques for disposal of agricultural waste.
×