01.01.2015 | Ausgabe 1/2015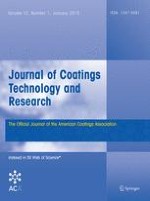 Sol–gel route to ceria coatings on AA2024-T3 aluminum alloy
Zeitschrift:
Autoren:

Min Zuo, Tingting Wu, Kegeng Xu, Shiquan Liu, Degang Zhao, Haoran Geng
Abstract
The ceria coating was studied as an efficient alternative to the chromate protective coating of aluminum alloys. The environmentally friendly inhibitor of cerium ion was incorporated into the surface coating using Ce(NO
3
)
3
as precursor via a sol–gel route. The coatings were analyzed with FESEM and EDS. The anticorrosion performance evaluation of the coatings was carried out using electrochemical methods and full immersion experiments. Under the conditions of surface pretreatment with 15 wt% NaOH solution for 20 s, a sol reaction time of 2 h and 3–5 times of dip-coating, the uniform ceria coatings with low defect and barrier were successfully synthesized. After the full immersion process, pitting holes containing copper-rich phases were detected on the surface of the uncoated sample. In contrast, such holes were not observed on the coated sample. Furthermore, the
I
corr
values of the coated samples were smaller than that of the uncoated one, which confirms that the coatings provide a considerable protection barrier and promote the anticorrosion performance of aluminum alloys.