13.11.2017 | Original Paper: Sol-gel and hybrid materials for catalytic, photoelectrochemical and sensor applications | Ausgabe 2/2018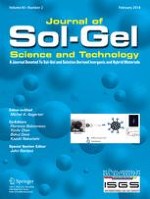 Sol–gel solvothermal route to synthesize anatase/brookite/rutile TiO2 nanocomposites with highly photocatalytic activity
Zeitschrift:
Autoren:

Xin Qian, Huanre Han, Yulong Chen, Ye Yuan
Wichtige Hinweise
Xin Qian and Huanre Han contributed equally to this work and should be considered co-first authors.
Abstract
In this study, an attempt is done to synthesize anatase/brookite/rutile TiO2 nanocomposites via a simple solvothermal method with hydrochloric acid, dehydrated ethanol, and titanium butoxide in a sol−gel environment. The effect of preparation temperature on the content of each phase, crystallite size, morphology, and photocatalytic activity was systemically studied. The structures of the products prepared under different temperatures were characterized using X-ray diffraction analysis, transmission electron microscopy, Raman spectra, and BET surface area. The optical properties were measured by UV–vis diffuse reflectance spectra. Besides, the photocatalytic activities were evaluated by performing the degradation of rhodamine B azo dye under UV−vis radiation. The results reveal that the content of different phases and crystallite size can be tailored via tuning the solvothermal condition. In addition, the obtained TiO2 nanocomposites are a kind of mesoporous materials and have large BET surface area, narrow pore size distribution, and low band gap, which exhibit excellent photocatalytic performance (of activity about 4.40 times that of Degussa TiO2 P25). Through examining the photocatalytic stability, the obtained TiO2 nanocomposites exhibit a very stable photocatalytic performance. Therefore, the current method to TiO2 preparation could provide a simple and reliable route for developing photocatalytic materials with high photocatalytic activity.
Graphical abstract