01.09.2014 | Original Paper | Ausgabe 3/2014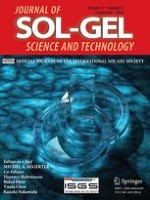 Sol–gel synthesis and XPS study of vanadium pentoxide xerogels intercalated with glucose
Zeitschrift:
Autoren:

V. Bondarenka, V. Jasulaitienė, R. Sereika, A. Stirkė
Abstract
Vanadium–glucose xerogels (C
6
H
12
O
6
)
x
V
2
O
5
·
n
H
2
O with different amounts of glucose (x = 0; 0.3 and 0.5) have been synthesized by sol–gel method. The scanning electron microscopy (SEM) and X-ray photoelectron spectroscopy (XPS) methods were used to investigate the morphology and composition of obtained xerogels. SEM results show that after intercalation of the glucose molecules the surface structure became more spongy and porously. XPS analysis show that the increasing of glucose concentration in the compounds the reduction ratio of vanadium ions increases. The oxygen ions in the synthesized vanadium–glucose xerogels are bounded to the vanadium ions, carbon ions are involved in a chemical bounding in the hydroxyl group. The determined carbon ions chemical bonds are characteristic for glucose (C–C, CH–OH and C–O bonds). Some of the oxygen ions in the pure vanadium pentoxide xerogels are bonded in water molecules. This fact and the absence of the oxygen component which corresponds to the water in glucose-vanadium xerogels indicate that glucose molecules displaced structural water in vanadium hydrate and are intercalated between the vanadium–oxygen layers.