2016 | OriginalPaper | Buchkapitel
11. Solar Filters: A Strategy of Photoprotection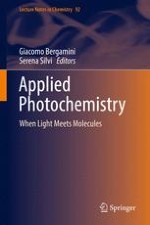 Erstes Kapitel lesen
Autor: Susana Encinas Perea
Abstract
Solar filters, as photostable compounds, are used to protect the human skin against harmful UV radiation. Up until recently, sun protection was limited to the use of sunscreens whose active ingredients are UV filters, which reflect or absorb UV rays depending on their chemical nature. Today there is a trend toward higher sun protection factors and the use of additional ingredients in sunscreens aimed at further protecting against the indirect damage primarily caused by the deeply penetrating UVA rays. In fact, these wavelengths have been shown to generate reactive oxygen species, which become mediators of cellular oxidative damage, leading to oxidative stress and immune suppression in skin.
In this chapter a photoprotection strategy has been described based on the development of sunscreens to minimize light absorption by the photosensitizers, and the use of scavengers to eliminate the reactive oxygen species arising therefrom. Advantage has been taken from the photochemical and photophysical techniques, through the combination of steady-state photolysis, photoproducts isolation and characterization with time-resolved spectroscopy, such as laser flash photolysis.
A broadband UV filter, the bis-ethylhexyloxyphenol methoxyphenyl triazine (Tinosorb S®), which provide protection against direct and indirect UV-induced DNA damage by absorbing solar UV and reducing ROS formation in the skin, has been chosen. Based on its characteristics, it has been considered whether it would be feasible and useful to have a compound which would display in the same molecule both UV-absorbing and antioxidant properties. This type-molecules could find potential applications for reducing skin photo-oxidative damage.