01.04.2014 | Original Paper | Ausgabe 2/2014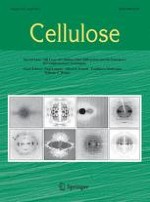 Solid–solvent molecular interactions observed in crystal structures of β-chitin complexes
Zeitschrift:
Autoren:

Daisuke Sawada, Yu Ogawa, Satoshi Kimura, Yoshiharu Nishiyama, Paul Langan, Masahisa Wada
Abstract
Three β-chitin structures [anhydrous, di-hydrate, mono-ethylenediamine (EDA)] recently determined by synchrotron X-ray and neutron fiber diffraction were reviewed from the viewpoint of molecular interactions. Both water and EDA molecules interact with the chitin chains through multiple hydrogen bonds. When water complexes with chitin, the hydrogen bonding pattern rearranges with the replacement of an intrachain chitin hydrogen bond by a stronger hydrogen bond between chitin and water, with an associated reduction in the degrees of freedom; the water oxygen is a much stronger acceptor than the O5 ring atom. The behavior of hydrogen exchange by deuterium supports this interpretation. EDA-molecules change the conformation of hydroxymethyl group from
gg
to
gt
, accompanied by changes in hydrogen bonds due to the strong accepting ability of the EDA nitrogen atoms. Some important interactions are in common with experimental crystallographic results of cellulosic crystals and of molecular dynamics studies. These new insights into solid–solvent interactions are valuable in understanding molecular interactions in other polysaccharides-solvents system in solution or on surface.