25.05.2017 | Ausgabe 1-2/2017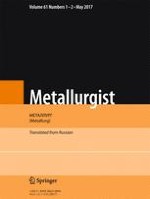 Solidification Conditions for High-Strength Aluminum Alloy Ingots with Increased Transition Metal Content
Zeitschrift:
Autoren:

S. G. Bochvar, S. M. Merkulova
Wichtige Hinweise
Translated from Metallurg, No. 1, pp. 95–100, January, 2017.
It is shown that during continuous casting of high-strength aluminum alloy ingots of industrial dimensions there is a possibility of increasing the zirconium content to 0.4% if the production methods provide suppression of stable Al3Zr. Melt temperature and time treatment makes it possible to prepare ingots of alloy 1973 without primary particles intermetallic with diameter of 97 mm containing 0.38% Zr and 178 mm in diameter containing 0.2% Zr. It is determined that the use of extra-furnace modification with addition of Al–5% Zr master alloy bar into the furnace tap-hole box and cavitation action of solidification in the molten pool of an ingot makes it possible to prepare ingots of alloy 01959 300 mm in diameter of guaranteed composition with alloying by zirconium for the lower limit of the technical specifications. It is shown that in spite of the presence within ingots of primary intermetallics the mechanical property level achieved complies with technical specifications for granule shape. Some increase (by 5–7% with respect to strength) of the properties of sections of granules is connected with an increase in fineness of all phases compared with a cast version.