17.10.2016 | Original Paper: Devices based on sol-gel or hybrid materials | Ausgabe 3/2017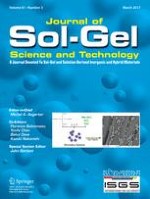 Solution processed n-In2S3/p-P3HT planar hybrid solar cell
Zeitschrift:
Autor:

Ferhat Aslan
Abstract
In
2
S
3
is one of the widely used semiconductors in optoelectronic applications. It has already been used as an
n
-type buffer layer instead of highly toxic CdS semiconductor in copper indium sulfide based inorganic thin film solar cells. In this work, thin films of In
2
S
3
were prepared on ITO coated glass and glass substrates by a solution based spin casting process. The optical, morphological, and structural characterizations of the In
2
S
3
thin film were studied by Uv-vis spectroscopy, X-ray diffraction, and scanning electron microscopy. According to the X-ray diffraction result the thin film exhibited tetragonal
β
-phase. The Uv-vis study showed that the In
2
S
3
film exhibited optical band gap of ~2.42 eV. Furthermore, a thin film of In
2
S
3
has also been applied as an inorganic electron accepting semiconductor layer for preparing the planar inorganic/organic hybrid solar cell. The hybrid device with the In
2
S
3
layer exhibited performance with an open-circuit voltage (V
oc
) of ~0.343 V, short-circuit current density (J
sc
) of ~0.528 mA/cm
2
, fill factor of ~0.53, and power conversion efficiency (
η
) of ~0.12 %.
Graphical Abstract