01.01.2015 | Ausgabe 1/2015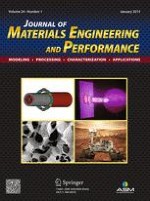 Solution Treatment and Aging (STA) Study of Ti Alloy Ti5Al3Mo1.5V
Zeitschrift:
Autoren:

V. Anil Kumar, R. K. Gupta, G. Sudarsana Rao
Abstract
Titanium alloy Ti5Al3Mo1.5V is used in the fabrication of critical engine and pyro components for space applications. The alloy processed through double vacuum arc remelting and finish forged in α−β regime has been studied for its response to various heat treatments. Solution treatment and aging cycles have been varied to study their effect on tensile properties of the alloy. Response to solution treatment and aging is found to be significant in improving the mechanical properties. Specimens subjected to higher solution treatment temperatures (900 °C) i.e.,
T
β
-50 °C and higher aging temperature and time showed the highest strength with moderate ductility. It can be attributed to the presence of α'-phase and precipitation of fine secondary α. The presence of large amount of β-phase is noted through EBSD in the sample heat treated at higher temperature, which may also have precipitation of fine secondary α during aging at higher temperature and or for longer aging time.