01.02.2017 | Ausgabe 2/2017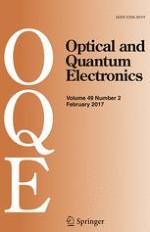 Solvatochromic effect on photophysical properties of Quinoxalin-2(1H)-one and 3-Benzylquinoxalin-2(1H)-one
Zeitschrift:
Autoren:

R. Jdaa, B. Benali, A. El Assyry, B. Lakhrissi
Abstract
Quinoxalin-2(1H)-one and its derived 3-Benzylquinoxalin-2(1H)-one were synthesized and characterized by UV–visible spectroscopy. The changes displayed by the photophysical properties of these molecules in different solvents can be explained in terms of a sum of dielectric polarity and hydrogen bonding effects taking part in the stabilisation of the structure. 3-Benzylquinoxalin-2(1H)-one exhibits two fluorescence emission bands (
F
a
and
F
n
) in very polar solvents and one band (
F
n
) in low polar solvents. These bands are assigned on the basis of the absorption and emission solvent effect. The abnormal fluorescence (
F
a
) observed in very polar solvents is attributed to an intermolecular interaction between solute and solvent molecules in the excited state (exciplex formation).