01.08.2014 | Original Paper | Ausgabe 2/2014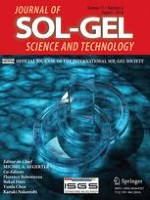 Solvent effects on structural properties of SiO2 gel using
n

-octylamine as a catalyst
Zeitschrift:
Autoren:

Feigao Xu, Jiangang Yu, Dan Li, Ning Xiang, Qingjian Zhang, Li Shao
Abstract
We have investigated the effect of solvent(ethanol, acetone, isopropanol) on the sol–gel process of tetraethylorthosilicate (TEOS) in which case,
n
-octylamine is used as polycondensation catalyst. Two sets of materials were prepared in the laboratory by using ethanol, acetone and isopropanol as solvents respectively: (1) xerogels from TEOS/
n
-octylamine, and (2) composites from TEOS/polyhedral oligomeric silsesquioxanes /
n
-octylamine. The chemical structure of xerogels was studied by FTIR, TG–DSC, scanning electronic microscope and nitrogen adsorption–desorption isotherms techniques. The results have shown that the solvents directly influence the gel time. Gel time is longer for acetone than that of ethanol and isopropanol. In the case of TEOS xerogels, the materials are essentially mesoporous when
n
-octylamine is used as a catalyst. Silica, when ethanol is used as a solvent, exhibits a more narrow pore size showing textures with a microstructure uniformly distributed with different porosity levels. However, when the aged-isopropanol gel is used, silica shows textures with a microstructure nonuniformly distributed.