2022 | OriginalPaper | Buchkapitel
16. Solving Crime Via Forensic Science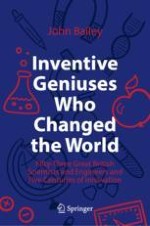 Erstes Kapitel lesen
Autor: John Bailey
Abstract
We are a law-abiding nation and believe in justice for all. There are times when the available evidence such as physical appearance, dermatoglyphic fingerprints (ridge patterns) and dental charts are insufficient for criminal investigators to proceed with a case. New and novel techniques were required to solve some crimes. To help both safeguard our liberties and fight crime, we have developed DNA fingerprinting and profiling (Jeffreys) and quantitative forensic soil science (Dawson).
Alec Jeffreys was an obsessive, precocious child. His interest in science started as a schoolboy when he conducted experiments in the sitting room and dissections on the kitchen table. After seven years at Oxford University, he moved to the University of Amsterdam where he and a co-worker developed a method for producing a physical map of the β-globulin gene in a rabbit's genome. A gene is a continuous or discontinuous section of DNA. Each person has a unique sequence of DNA, a signature trademark. It is noteworthy that the latest research suggests that environmental influences may cause monozygotic twins to have slightly different genomes.
After moving to Leicester University, he focussed on the inherited variation in the human gene, seeking to trace genes through family lineages. Although 99.9% of human sequences are the same for every person, Jeffreys realized that the remaining 0.1% is enough to distinguish individuals, one from another. Using sophisticated chemical techniques, he demonstrated that biological identification or DNA fingerprinting can be used to resolve issues of identification and kinship.
He then concentrated on the forensic field and refined DNA fingerprinting to give DNA profiling for which only a single repeated strand of DNA is counted. An individual can thereby be identified from the tiniest trace of their saliva, sweat, blood or semen, leading to a big saving in police investigative time.
The subsequent impact of these two techniques on solving paternity and immigration cases, catching criminals, whilst freeing innocents, has been extraordinary, and has impacted on the lives of millions of people world-wide. This application of molecular biology is invaluable to our justice system and helped private citizens find truth and resolution. It is also being used in 'non-human' crime (e.g., trade in rhinoceros' horns). As well as transforming forensic science, it has revolutionized the fields of biology, biodiversity, ecology, archaeology, genetic disorders and predispositions, livestock breeding and pedigree authentication. Jeffreys is very deserving of a Nobel prize.
Growing up on her father's potato farm, Lorna Dawson saw how different soil
s
affected crop yields and how different crops required different soil types for optimal growth. Her undergraduate studies in geography exposed her to other disciplines, including biology, chemistry and statistics which would prove crucial to her future career.
Every contact leaves a mark. The landscape leaves its mark on us. Lorna recognised that soil embodies a signature matrix which she was able to link to location. Trace samples of soil, taken at a crime scene, or, from an item involved with the crime, can be subject to accredited methods of analysis, interpretation, presentation, and explanation. She has used quantitative forensic evidence, not only to snare suspects, but to clear the innocent. It has helped with crime reconstruction and has been admissible in court.