01.06.2015 | Original Paper | Ausgabe 12/2015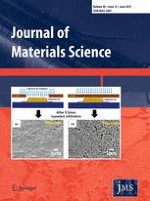 Solvothermal self-assembly of magnetic Fe3O4 nanochains by ethylenediamine functionalized nanoparticles for chromium(VI) removal
Zeitschrift:
Autoren:

Hong Ni, Xiaowen Sun, Yadong Li, Chunxia Li
Wichtige Hinweise
Electronic supplementary material
The online version of this article (doi:
10.​1007/​s10853-015-8979-z
) contains supplementary material, which is available to authorized users.
Abstract
In this study, one-dimensional amino-functionalized magnetic Fe3O4 nanochains (MNCs) consisting of self-assembled Fe3O4 nanoparticles (NPs) were synthesized via a facile one-pot solvothermal route at 180 °C using FeCl3·6H2O as the iron source and ethylenediamine as the surfactant without the use of any external magnetic fields or templates. The synthesized MNCs consist of nanospheres with a diameter of 120 nm assembled from Fe3O4 NPs and have good water dispersibility with a high Brunauer–Emmett–Teller surface area (44.028 m2 g−1). The magnetic measurements revealed the superparamagnetic nature of the as-prepared MNCs with a saturation magnetization of 70.9 emu g−1 at room temperature. The nanochain formation mechanism was proposed as a magnetic dipole–dipole interaction and caused by the effects of the ethylenediamine surfactants. These MNCs were confirmed to be efficient adsorbents for chromium(VI) removal. The adsorption isotherm conformed to the Langmuir model at a Cr(VI) ion concentration higher than 40 mg L−1, and the maximum removal capacity was 60.25 mg g−1 at a solid-to-liquid ratio of 1:1000 g/mL.