26.10.2019 | Policy Perspectives | Ausgabe 4/2019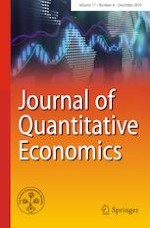 Some Logical and Normative Issues Relating to Measurement in the Social Sciences
Zeitschrift:
Autor:

S. Subramanian
Wichtige Hinweise
This is the text of the C. Chandrasekaran Memorial Lecture, delivered at The International Institute for Population Sciences (IIPS) in Mumbai on March 11th 2019. In preparing the lecture, I have drawn considerably on earlier work in which I have been involved, either singly or in collaboration. For discussions over the years on the issues dealt with in the lecture, I am grateful to D. Jayaraj, Kaushik Basu, Nicole Hassoun, Sanjay Reddy and Mala Lalvani. This lecture was published as Paper No. 18 in the IIPS Working Papers Series (IIPS: Mumbai, April 2019); and I am grateful to the Institute for permission to reproduce the paper here.
Publisher's Note
Springer Nature remains neutral with regard to jurisdictional claims in published maps and institutional affiliations.
Abstract
This lecture is based on the premise that measurement is very important for the social sciences. However, it also enjoins care on the practitioner's part in his or her engagement with the project of measurement. It deals, in particular, with four often overlooked issues with which quantification in the social sciences should be concerned: (1) social indicators in relation to the contrast between outcomes and processes; (2) measurement which tends to depend on the derivation of 'ought' propositions from 'is' propositions; (3) the neglect of the role of normative values in social and economic measurement; and (4) the role of language and logic in social measurement.