01.01.2014 | Original Article | Ausgabe 1/2014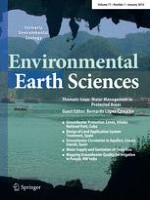 Some metal concentrations in the edible parts of
Tridacna maxima

, Red Sea, Egypt
Zeitschrift:
Autoren:

Tarek A. A. Mohammed, Ekbal M. Mohamed, Yaser M. Ebrahim, AlShimaa A. Hafez, Rabab M. E. Zamzamy
Abstract
The concentrations of Ca, some essential (Fe, Zn, Mn, and Cu) and non-essential nutritive elements (Cd, Pb, and Ni) were measured in the edible parts (mantle and adductor muscles) of
Tridacna maximx
collected from south Quseir City (Red Sea). The general trend of metal contents of the different parts follows the order; Ca > Fe > Zn > Pb > Mn > Cu > Cd > Ni. The tissues before cooking recorded the highest average concentrations of Cu, Pb, Fe, Cd, Mn, and Ni (2.658, 5.250, 34.375, 1.464, 3.207, and 0.886 ppm, respectively) relative to tissues after cooking and the water of cooked tissues (WCT). The total cooked tissues recorded higher average contents of Zn and Ca (17.282 and 1,114.679 ppm) than the uncooked tissues. Calcium recorded the highest concentration in the ECT of adductor and mantle muscles (2,081.126 ± 177.39 and 1,893.326 ± 394.28 ppm). Mantle recorded higher concentrations of Pb, Mn, Ni, and Ca (7.489 ± 4.65, 4.241 ± 1.13, 0.980 ± 0.60, and 1,039.362 ± 177.42 ppm, respectively) than adductor muscle before cooking. Ca concentration levels in the WCT increased after cooking tissues especially in adductor muscles. This may attributed to the liberation of larger amount of calcium in ionic form in water. The clams may have intracellular regulatory mechanisms to keep their concentrations in equilibrium, subsequently; the recorded metal concentrations are in the safe limits for human consuming, where these concentrations did not exceed the clam's capacity of regulation.