01.06.2015 | Ausgabe 6/2015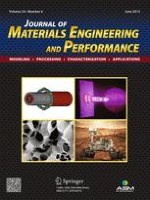 Some Perspectives on Innovative Processing and Materials Development
Zeitschrift:
Autoren:

Genjiro Motoyasu, Hiroyuki Yamazaki, Atsumi Ohno, Hiroshi Soda, Alexander McLean
Wichtige Hinweise
This article is an invited paper selected from presentations at ″Innovation in Processing of Light Metals for Transportation Industries: A Symposium in Honor of C. Ravi Ravindran,″ held during MS&T'14, October 12-16, 2014, in Pittsburgh, PA, and has been expanded from the original presentation.
Abstract
Throughout a long and distinguished career, the research activities conducted by Professor Ravindran have been characterized by the quest to generate fundamental as well as practical knowledge through collaborative efforts involving academia and industry as a basis for development of innovative manufacturing routes and improvement in performance of existing products and processes based on near-net-shape casting technologies. In this paper, the generation, validation, and implementation of new knowledge is illustrated by the Ohno Continuous Casting process, a heated mold system that permits the production of net-shape or near-net-shape products with a high-quality surface, controlled solidification structure, and significantly enhanced properties.