2006 | OriginalPaper | Buchkapitel
16. Some Statistical Models for the Monitoring of High-Quality Processes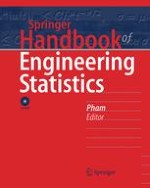 Erstes Kapitel lesen
Autoren: Min Xie, Thong Goh
Verlag: Springer London
Abstract
One important application of statistical models in industry is statistical process control. Many control charts have been developed and used in industry. They are easy to use, but have been developed based on statistical principles. However, for today's high-quality processes, traditional control-charting techniques are not applicable in many situations. Research has been going on in the last two decades and new methods have been proposed. This chapter summarizes some of these techniques.
High-quality processes are those with very low defect-occurrence rates. Control charts based on the cumulative count of conforming items are recommended for such processes. The use of such charts has opened up new frontiers in the research and applications of statistical control charts in general. In this chapter, several extended or modified statistical models are described. They are useful when the simple and basic geometric distribution is not appropriate or is insufficient.
In particular, we present some extended Poisson distribution models that can be used for count data with large numbers of zero counts. We also extend the chart to the case of general time-between-event monitoring; such an extension can be useful in service or reliability monitoring. Traditionally, the exponential distribution is used for the modeling of time-between-events, although other distributions such as the Weibull or gamma distribution can also be used in this context.