2016 | OriginalPaper | Buchkapitel
Some Topics in Summability Theory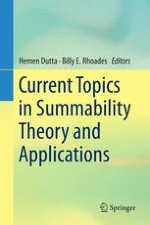 Erstes Kapitel lesen
Autor: P. N. Natarajan
Verlag: Springer Singapore
Abstract
The chapter is divided into nine sections. In the first section, we prove a theorem, which gives an equivalent formulation of summability by weighted mean methods. A result of Hardy and a result of Móricz and Rhoades are particular cases of this theorem. We also prove another interesting result on weighted mean methods in this section. In Sect.
2
, we introduce the
\((M, \lambda _n)\)
method (or Natarajan method) of summability and study its properties concerning its regularity, consistency and translativity. We also prove an inclusion theorem and an equivalence theorem. In Sect.
3
, we study the connection between the Natarajan method and the Abel method. In Sect.
4
, we establish an interesting product theorem involving the Euler and the Natarajan methods. Section
5
is devoted to a study of some more nice properties of the Natarajan method. In Sect.
6
, a sequence space
\(\Lambda _r\)
,
\(r \ge 1\)
being a fixed integer, is defined and a Steinhaus type theorem involving this space is proved. Section
7
is devoted to a study of the above sequence space in the context of sequences of zeros and ones. In Sect.
8
, we study the core of a sequence. We prove an improvement of a result of Sherbakhoff, which incidentally gives rise to a very simple proof of Knopp's core theorem. In the final Sect.
9
, we present a study of the matrix class
\((\ell , \ell )\)
.