2015 | OriginalPaper | Buchkapitel
Some Transportation Problems Under Uncertain Environments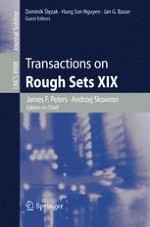 Erstes Kapitel lesen
Autor: Pradip Kundu
Verlag: Springer Berlin Heidelberg
Abstract
Transportation problem (TP) is a very important area in operations research and management science. TPs not only involve with cost minimization, but also involve with many other goals such as profit maximization, time minimization, minimization of total deterioration of goods, etc. Also the available data of a transportation system such as transportation costs, resources, demands, conveyance capacities are not always crisp or precise but are uncertain. In this dissertation some transportation problems have been formulated and solved in different uncertain environments, e.g., fuzzy, type-2 fuzzy, rough and linguistic.
Section
1
is introductory. Some basic concepts and definitions of fuzzy set, type-2 fuzzy set, rough set and variable are introduced in Sect.
2
. In Sect.
3
, we have formulated and solved two solid transportation problems (STPs) with fuzzy parameters namely a multi-objective STP with budget constraints and a multi-objective multi-item STP. Section
4
presents some theoretical developments related to type-2 fuzzy variables (T2 FVs) - a defuzzification method of T2 FVs and an interval approximation method of continuous T2 FVs. In this section, three transportation models with type-2 fuzzy parameters have been formulated and solved. In Sect.
5
, we have presented two transportation mode selection problems with linguistic evaluations represented by fuzzy variables and interval type-2 fuzzy variables respectively. Here we have developed two fuzzy multi-criteria group decision making methods and these methods are applied to solve the respective mode selection problems. Section
6
presents a practical solid transportation model considering per trip capacity for each type of conveyances. Also in this problem fluctuating cost parameters are represented by rough variables. Rough chance constrained programming model, rough expected value model and rough dependent-chance programming model are used to solve the problem with rough cost parameters.