21.07.2018 | Report | Ausgabe 8/2018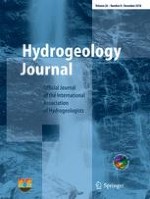 Sone megafan: a non-Himalayan megafan of craton origin, forming a potential groundwater reservoir in marginal parts of Ganga Basin, India
Zeitschrift:
Autoren:

S. Sahu, D. Saha, R. R. Shukla
Abstract
The Sone River megafan in the Marginal Alluvial Plain (MAP) in the southern parts of the Ganga Basin (India) holds potential aquifer systems within a hydrogeologically poor region with limited groundwater potential. The work investigates the hydrostratigraphy and hydrogeological characteristics, including the yield potential and hydraulic parameters of the aquifer systems in the megafan, by analyzing borehole lithologs (
n
 = 78), drill-cut sediment (
n
 = 5), depth to water level (
n
 = 112) and pumping test data (
n
 = 19). The aquifer materials comprise oxidized and brownish-yellow fine to very coarse sand and gravels (mean size range 0.21–1.34 mm), constituting ~10–90% of the sedimentary column within the depth of 250 m below ground level (bgl). Two aquifer systems are delineated within the depth, marked by a middle clay layer lying at 87–139 m bgl. The phreatic aquifer within the top aquitard depicts shallow water levels, which varied between 0.6 and 12.0 m bgl. The discharge in the tube wells tapping the second aquifer system varies between ~46 and 250 m
3
/h. The transmissivity values were estimated up to 23,696 m
2
/d (generally 5,000–10,000 m
2
/d). The storativity values (range 2.6 × 10
−9
to 5.0 × 10
−3
) indicate a confined state of groundwater in the aquifer system. The hydraulic conductivity values of 21–369 and 31–196 m/d, as estimated by a grain-size based empirical method, suggest high groundwater potential of both the first and second aquifer systems, respectively. The groundwater source availability in the megafan is supported by copious supply of source water where the palaeochannels act as conduits of recharge.