01.06.2011 | Original Paper | Ausgabe 3/2011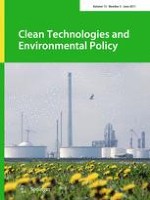 Sophorolipids production by
Candida bombicola

using dairy industry wastewater
Zeitschrift:
Autoren:

A. Daverey, K. Pakshirajan, S. Sumalatha
Abstract
Wastewater obtained from a local dairy industry was simultaneously utilized and treated for the production of sophorolipids (SLs), a glycolipids type of biosurfactant, by the yeast
Candida bombicola
. The dairy wastewater, after initial characterization, was utilized as media with or without adding extra carbon and nitrogen source in the study. A maximum yield of 62 g/l of SLs was found when the yeast was grown on the dairy wastewater supplemented with glucose (10% w/v), yeast extract (0.2% w/v), and soybean oil (10% v/v) in batch shake flasks. Chemical oxygen demand (COD) analysis of the wastewater during the yeast fermentation revealed more than 80% COD removal efficiency in all the experiments. High yield of SLs together with high COD removal efficiency of the yeast in the present study revealed good potential of the system in pretreating such wastewaters and for the production of valuable bioproducts. In addition, the critical micelle concentration and minimum surface tension against water using the produced SLs were found to be 30 mg/l and 33.6 mN/m, respectively. Further, its stability over a wide range of pH (2–10), temperature (up to 120 min of boiling) and salt concentrations (20% NaCl) confirmed the potential of the produced SLs in environmental applications.