17.05.2018 | Original | Ausgabe 4/2018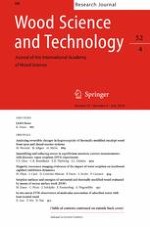 Sorption surfaces and energies of untreated and thermally modified wood evaluated by means of excess surface work (ESW)
Zeitschrift:
Autoren:

Mario Zauer, Carsten Prinz, Jürgen Adolphs, Franziska Emmerling, André Wagenführ
Wichtige Hinweise
Publisher's Note
Springer Nature remains neutral with regard to jurisdictional claims in published maps and institutional affiliations.
Abstract
Water vapor sorption surface areas and sorption energies of untreated and thermally modified Norway spruce [
Picea abies
(L.) Karst.], sycamore maple (
Acer pseudoplatanus
L.) and European ash (
Fraxinus excelcior
L.) were investigated by means of dynamic vapor sorption (DVS) measurements and excess surface work (ESW) evaluation method, respectively. Adsorption and desorption experiments in the hygroscopic range and desorption tests from water saturation were conducted. Thermodynamically, ESW is the sum of the surface free energy and the isothermal isobaric work of sorption. From the amount adsorbed in the first minimum a specific surface area similar to the BET surface area can be obtained. The results show that untreated spruce has a significantly higher specific water vapor sorption surface and sorption energy compared to both hardwoods maple and ash. Thermal modification of the woods leads to a significant reduction of water vapor sorption surface and sorption energy. The determined surface area and energy are higher in desorption direction than in adsorption direction, whereby the highest values in desorption direction from water saturation, especially for maple and ash, were obtained. The surface areas calculated by means of the ESW method are similar to the surface areas calculated by means of the BET method, particularly in adsorption direction.