01.02.2011 | Paper | Ausgabe 1/2011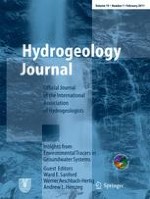 Source of paleo-groundwater in the Emirate of Abu Dhabi, United Arab Emirates: evidence from unusual oxygen and deuterium isotope data
Zeitschrift:
Autor:

Warren W. Wood
Abstract
Paleo-groundwaters of 6000 years
BP
from the Liwa water-table sand dune aquifer in the Rub al Khali and the Gachsaran artesian carbonate aquifer, on the coast of the Emirate of Abu Dhabi (UAE), exhibit normal δ
2
H/δ
18
O slopes, modest δ
18
O increases, and large negative deuterium excess "
d
" (Liwa aquifer: 2.19‰ VSMOW and
d
 = –15; Gachsaran aquifer: 3.16‰ VSMOW and
d
 = –28) compared to local Shamal precipitation (0.05‰ VSMOW and
d
 = 7). This unusual isotopic signature is hypothesized to result from re-evaporation of continental runoff to the Red Sea catchment basin. It is postulated that this continental water flowed onto the surface of the Indian Ocean providing a moisture source for the monsoon that dominated precipitation during this, the last wet period in the area from 5000 to 9000
BP
. Carbonate precipitation, forming speleothems, travertines, tufas, lacustrine, and capillary-zone deposits, subsequently record this δ
18
O isotopic signature. This rock record is thus dominated by the water source, rather than environmental conditions of deposition normally assumed to control the rock δ
18
O isotopic signature. As a consequence, re-evaluation of paleo-climateδ
18
O data from the rock record may be necessary for this time period in southern Arabia.