27.02.2018 | Polymers | Ausgabe 11/2018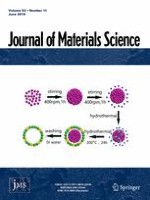 Soy protein-treated nanofillers creating adaptive interfaces in nanocomposites with effectively improved conductivity
Zeitschrift:
Autoren:

Yichao Li, Jianying Ji, Yu Wang, Renfu Li, Wei-Hong Zhong
Wichtige Hinweise
Electronic supplementary material
Abstract
A study on effectively making conductive nanocomposites with adaptable interfaces formed between soy protein-treated nanofillers and polymer matrices with different structures is presented. Although soy protein, an abundant biomaterial with various functional groups, is basically considered as a hydrophilic material, this study demonstrated that it could be used as a novel surfactant for treating nanofillers in non-aqueous environment and the treated nanofillers were successfully incorporated into hydrophobic polymers. Confocal microscopy results showed that soy protein well interacted with CNFs, and well-dispersed soy protein-treated CNFs (s-CNFs) within both thermoplastic (polycarbonate) and thermoset (epoxy) conductive nanocomposites were observed in the optical microscopy and scanning electron microscopy images. The significant enhancements in the electrical conductivities were confirmed by the DC and AC conductivity testing for the resulting nanocomposites at low s-CNF loadings. In specific, an increase of 6 orders and 5 orders for the DC conductivities of polycarbonate and epoxy nanocomposites, respectively, is achieved at only 0.5 wt% loading of s-CNFs. The present work provides a green and adaptive nanofiller treatment method for fabrication of conductive nanocomposites.