01.07.2011 | Ausgabe 7/2011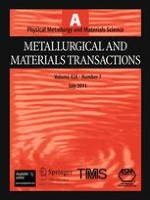 Spark Plasma Sintering of Nanocrystalline Cu and Cu-10 Wt Pct Pb Alloy
Zeitschrift:
Autoren:

Amit S. Sharma, Krishanu Biswas, Bikramjit Basu, Dibyendu Chakravarty
Wichtige Hinweise
Manuscript submitted June 20, 2010.
Abstract
For the first time, we report here that high purity nanocrystalline Cu and Cu-10 wt pct Pb alloys can be densified with more than 90 pct theoretical density at a low temperature of 623 K (350 °C) using spark plasma sintering (SPS) in argon atmosphere at a pressure of 100 MPa. Scanning electron microscopy (SEM) analysis indicates that molten Pb particles travel through Cu grain boundaries, delineating a "flowlike" pattern in the microstructure. An extensive transmission electron microscopy (TEM) analysis of the ultrafine scale microstructure reveals partial wetting of Cu by liquid Pb as well as entrapment of Pb particles within the Cu matrix. The sintering kinetics and microstructural evolution are discussed in reference to the intrinsic characteristics of SPS as well as phase equilibria in the Cu-Pb system. An important result is that high hardness of around 2 GPa is measured in the Cu-10 wt pct Pb nanostructured alloy, SPS at 573 K to 623 K (300 °C to 350 °C).