01.02.2013 | Ausgabe 2/2013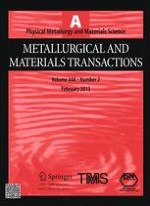 Spark-Plasma Sintering of W-5.6Ni-1.4Fe Heavy Alloys: Densification and Grain Growth
Zeitschrift:
Autoren:

Ke Hu, Xiaoqiang Li, Shengguan Qu, Yuanyuan Li
Wichtige Hinweise
Manuscript submitted February 29, 2012.
Abstract
W-5.6Ni-1.4Fe heavy alloys were prepared by the method of spark-plasma sintering, and the densification and grain growth kinetics were analyzed as a function of various parameters such as sintering temperature and dwell duration. It is found that the local temperature gradient at the vicinity of the pores can cause the matrix phase melting or softening, resulting in a viscous layer coating the W particles and an improved solubility of W into the matrix phase. In the initial stage, particle rearrangement and neck formation and growth take place, and
γ
-(Ni, Fe) matrix phase has formed. Dissolution-precipitation and Ni-enhanced W grain boundary diffusion together with viscous process contribute to the simultaneous densification and grain growth in the intermediate stage. During the final stage, fast grain growth, controlled by both gas-phase diffusion and dissolution-precipitation mechanisms, dominates over the densification.