2010 | OriginalPaper | Buchkapitel
8. Spatial Distribution of Toxic Release Inventory Sites in Chicago Area: Is There Environmental Inequity?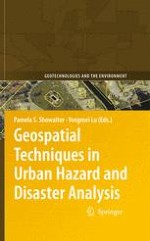 Erstes Kapitel lesen
Autoren: Fahui Wang, Yvette C. Feliberty
Verlag: Springer Netherlands
Abstract
The purpose of this study is to determine if "environmental inequity" can be associated with the spatial distribution of Toxic Release Inventory (TRI) facilities in the Chicago area. The chapter examines whether neighborhoods with minority concentrations or lower-income residents experience disproportionate exposure to facilities that release toxic emissions into the environment. Demographic information is extracted from 2000 Census data, and facility data are based on the 2004 Environmental Protection Agency's Toxic Release Inventory. Geographic Information Systems (GIS) is used to create "buffers" of various spatial extent around the facilities. Statistical analysis (including
t
-tests and regressions) is conducted to examine whether areas within the buffers are significantly more likely to consist of minority and low-income residents and households than areas outside the buffers. Results indicate that at both the census tract and block group levels, Hispanic and non-white classes as well as low-income residents are more likely to be located within the buffers. Therefore, this study corroborates earlier research findings that minority and low-income groups are disproportionately exposed to environmental hazards.