01.01.2014 | Original Article | Ausgabe 1/2014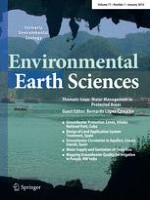 Spatial heterogeneity of cyanobacteria-inoculated sand dunes significantly influences artificial biological soil crusts in the Hopq Desert (China)
Zeitschrift:
Autoren:

Hua Li, Benqiang Rao, Gaohong Wang, Si Shen, Dunhai Li, Chunxiang Hu, Yongding Liu
Abstract
Artificial biological soil crusts (ABSCs), formed by inoculating
Microcoleus vaginatus
Gom. and
Scytonema javanicum
Born. et Flah. onto the topsoil of desert dunes, proved to be effective tools for the stabilization of moving dunes and promotion of soil fertility. As dominant driving forces in arid habitats, the abiotic environmental conditions of undulating dunes produce a gradient of abiotic stresses on cyanobacteria. Cyanobacteria are considered pioneering phototrophs in early soil crust communities in deserts. In this study, the development of ABSCs under various environmental site conditions was investigated using 16S rRNA-based polymerase chain reaction, denaturing gradient gel electrophoresis (DGGE), and soil property measurements. After inoculation in 2002 and long-term development, patchy moss crusts were observed on the dunes. All of the available sequenced bands in the DGGE gels belonged to Oscillatoriales and Nostocales. The dominant Nostocales genus in the ABSCs was still
Scytonema
; however, more Oscillatoriales genera were identified, which belonged to
Microcoleus
and
Phormidium.
The cyanobacterial compositions of different slope types were significantly distinct (
p
< 0.05), particularly those from windward slopes. The crusts of the top-dune slopes were more heterogeneous. In addition, the soil physicochemical properties and richness indices of the windward slopes were significantly lower than those of the leeward and interdune slopes (
p
< 0.05). Compared with uninoculated control dunes, all of the inoculated dunes had far higher biodiversities.