01.08.2016 | Original Article | Ausgabe 16/2016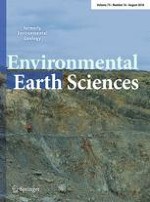 Spatiotemporal variability of surface-soil moisture of land uses in the middle reaches of the Heihe River Basin, China
Zeitschrift:
Autoren:

Sheng Wang, De-liang Guo, Jun Fan, Quan-jiu Wang
Abstract
Surface-soil water at the active interface of the soil and atmosphere varies strongly both temporally and spatially. Understanding the nature of the variation is necessary for improving the efficiency and management of the use of water resources. We used classical statistical and geostatistical methods to analyze a high density of measurements of surface-soil water contents (SWCs) to determine the spatiotemporal variability of SWC for three types of land uses in the middle reaches of the Heihe River Basin: desert, woodland, and farmland. Surface-soil moisture varied seasonally with the distribution of the precipitation. The mean surface SWCs for the desert, woodland, and farmland sites were 4.2, 10.2, and 17.4 %, respectively. The spatial variation and coefficients of variation (CVs) of the moisture in the surface soil were moderate to high and differed significantly (
P
< 0.05) among the land uses in the order desert < farmland < woodland. The CVs of the spatial variation of moisture decreased as mean SWC increased at the woodland and farmland sites but increased with mean SWC at the desert site. The semivariation parameters nugget, sill, and range were all in the order desert < woodland < farmland. Soil moisture sampling densities or spacings should be determined under different soil-water conditions and land-use types based on the semivariation parameters. Soil mechanical composition and mean soil moisture conditions are the primary factors affecting the spatial variation of surface SWC. Land-use type, cultivation management, and irrigation also have an effect on the spatial moisture heterogeneity.