2019 | OriginalPaper | Buchkapitel
Special Session: An Abstract on Consumer Interactions with Automated Technologies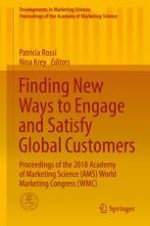 Erstes Kapitel lesen
Autoren: Ben Lowe, Orsolya Sadik-Rozsnyai, Laurent Bertrandias, Marc Kuhn, Marco Hubert
Abstract
This special session presents research which explores emerging themes around consumers and their interaction with automated technologies. Automated technology is fundamentally different to other technologies because consumers must delegate control over a behavior to a machine. This delegation presents a range of new benefits to consumers but also comes with its risks. Technologies such as autonomous vehicles, robotics, and smart products have advanced significantly with developments in computing and have become more ubiquitous in everyday life, a trend that is set to continue rapidly. As such there is a need to understand how consumers interact with these technologies and the challenges and opportunities these interactions present to consumers, marketers, and policy makers. How do such technologies influence consumer well-being? What benefits and risks do consumers perceive? How do consumers treat machines? How do segments differ in their evaluations of these technologies? The special session involves a range of presentations on various automated technologies to explore these issues, and others, using qualitative and quantitative methods. The presentations in the special session are below:
1.
Delegation of control to driverless cars
(Orsolya Sadik-Rozsnyai, Laurent Bertrandias, and Ben Lowe)
2.
Beaten tracks? Application of existing innovation acceptance models on automated driving
(Anne Köpsel, Sarah Selinka and Marc Kuhn)
3.
Slave or life partner? The effect of balance of power on the intention to adopt a companion robot
(Laurent Bertrandias and Ngoc-Bich Dang)
4.
Quo Vadis smart home? A consumer perspective on smart home acceptance
(Marco Hubert, Markus Blut and Christian Brock)
5.
Consumer segments and their reactions to risky situations in driverless cars: A cartoon based projective study
(Laurent Bertrandias, Orsolya Sadik-Rozsnyai, and Ben Lowe)
Topics for discussion were based around the applicability of existing consumer adoption models, delegation of authority, consumer well-being, benefits and risks, and associated ethical issues with automation. This will help to frame a future research agenda in the area and bring together researchers whose interests coalesce around these themes to further strengthen and build an international community of researchers in this area.
References Available Upon Request