22.08.2017 | Original Paper | Ausgabe 14/2017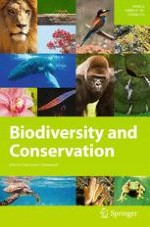 Species and functional trait re-assembly of ground beetle communities in restored grasslands
Zeitschrift:
Autoren:

Nicholas A. Barber, Katie A. Lamagdeleine-Dent, Jason E. Willand, Holly P. Jones, Kenneth W. McCravy
Wichtige Hinweise
Communicated by Jens Wolfgang Dauber.
Electronic supplementary material
The online version of this article (doi:
10.​1007/​s10531-017-1417-6
) contains supplementary material, which is available to authorized users.
Abstract
Ecosystem restoration provides unique opportunities to study community dynamics under succession and can reveal how consumer communities re-assemble and respond to successional changes. Studying community dynamics from both taxonomic and functional trait perspectives also may provide more robust assessments of restoration progress or success and allow cross-system comparisons. We studied ground beetle (Coleoptera: Carabidae) communities for three years in a restored grassland chronosequence with sites from 0 to 28 years old. We measured traditional community metrics (abundance, richness, Shannon diversity) and functional trait metrics based on species' body length, wing morphology, activity time, phenology, and diet. Communities had high species richness and abundance in early successional stages, but these declined in later stages to low levels comparable to an adjacent grassland remnant. Species composition also shifted with time, converging with the remnant. Although functional richness, like species richness, declined as succession progressed, functional divergence quickly increased and was maintained over time, suggesting niche differentiation in established communities. Young sites were typified by small, macropterous, phytophagous species, while older sites contained larger species more likely to be flightless and carnivorous. Prescribed burns also affected traits, decreasing prevalence of larger species. This study demonstrates that functionally diverse consumer communities can self-assemble under restoration practices. In a relatively short amount of time both morphological and trophic level diversity are established. However, prescribed fire intended to control non-desirable plants may also shape beetle community functional composition, and restoration managers should consider if plant community benefits of fire outweigh potential declines in consumer function.