01.02.2011 | Original Paper | Ausgabe 2/2011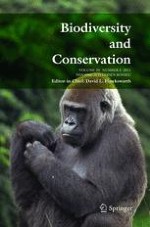 Specific features of meiosis in the Siberian Fir (
Abies sibirica

) in the forest Arboretum of the V. N. Sukachev Institute, Russia
Zeitschrift:
Autoren:

E. V. Bazhina, O. V. Kvitko, E. N. Muratova
Abstract
Investigating the tolerance of plant reproductive systems to environmental changes has become a research priority under current climate change scenarios. Successful plant conservation requires knowledge of plant reproductive biology, particularly the meiotic characteristics of planted species. Meiosis, as part of microsporogenesis, is a critical plant developmental stage controlling future pollen quality. Meiosis in a Siberian fir (
Abies sibirica
) plantation, established in the Forest Arboretum of the Sukachev Institute, Russia, was studied from 2002 to 2004. The microsporogenesis pattern found for the Siberian fir appeared to be largely similar to that exhibited by other conifer species. Meiosis in the Siberian fir has the following characteristics: asynchrony, rapid progression of telophases I and II, and parallel and linear spindle arrangements at different meiosis II stages. General and specific meiosis irregularities were recorded at each stage. Some specific features of meiosis and the specific development of some irregularities were revealed. Pollen development analysis showed that irregular pollen grains made up less than 1% of all grains. The specific features of meiosis identified in fir trees growing in the Arboretum indicated low resistance of male reproductive structures to climatic changes and might account for high fir pollen sterility in this new environment.