01.08.2016 | Ausgabe 8/2016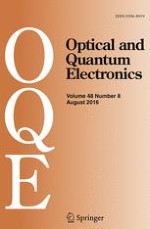 Spectral properties of the zero-phonon line from ensemble of silicon–vacancy center in nanodiamond
Zeitschrift:
Autoren:

L. Himics, S. Tóth, M. Veres, M. Koós
Wichtige Hinweise
This article is part of the Topical Collection on Laser technologies and laser applications.
Guest Edited by José Figueiredo, José Rodrigues, Nikolai A. Sobolev, Paulo André and Rui Guerra.
Abstract
The negatively charged silicon–vacancy (SiV−) center in diamond has outstanding light emission properties but using it as solid state single photon source requires formation of individual centers emitting indistinguishable single photons. We have investigated spectral properties of SiV− emission in a large number of nanodiamond films. Conditions of SiV− center's formation were varied systematically in microwave plasma assisted chemical vapor deposition (MP CVD) deposition process and spectral parameters of the zero-phonon line (ZPL) were measured. Average size of nanodiamond grains determined from scanning electron microscope micrograph and residual stress of diamond layer calculated from diamond Raman peak position were used as sample parameters. Blue shift of ZPL peak position and decrease of line broadening was found with decrease of average grain size. The residual stress with decreasing average grain size was established as origin of the variation of ZPL parameters. The blue shift and decrease of line broadening of SiV− center's ZPL was explained by the influence of the local strain field surrounding the SiV− center on electron–phonon orbital relaxation processes within the ground and excited electronic levels.