01.01.2015 | Ausgabe 1/2015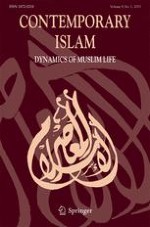 "Spirits are like microbes": Islamic revival and the definition of morality in Moroccan exorcism
Zeitschrift:
Autor:

Josep Lluís Mateo Dieste
Abstract
This article analyses the revitalisation of Islamic exorcism in Morocco since the 1990s and how its practitioners legitimise it as a ritual largely adapted to theological orthodoxy. The rhetoric of these exorcists on spirit possession defines certain afflictions as an intromission of the genies (
jnun
) into the body by physical mechanisms, comparable to the processes undertaken by microbes. From interviews and observation of ritual exorcism of Moroccan
faqihs
in Tetuan and Barcelona, I analyse their techniques and the way they legitimise them. I conclude that the moral intervention of religious specialists through Koranic recitation becomes effective throughout a dynamic worldview that reinforces old basic assumptions about a physical intercourse between
jnun
and humans. At the same time, with the revitalisation of the ritual, many Koranic exorcists incorporate new rhetorics to demonstrate scientifically the materiality of the
jnun
and their effects on the possessed bodies. But Moroccan Koranic healers not only rework definitions of affliction and legitimise the physical agency of the
jnun
, they also contribute to define gendered experiences of the body as far as women are conceived as the favorite and weakest victims of the genies.