Erschienen in: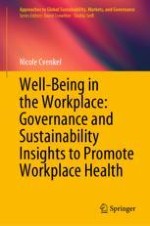 2020 | OriginalPaper | Buchkapitel
1. An Introduction to Employee Well-Being Research Terrain
Abstract
Well-being in the workplace is one of the essential domains for contemporary organisations. Several reasons can be advanced for the importance of studying employee well-being at work. Historically in the late nineteenth century, employers paid little attention to employee well-being, though there were some exceptions as some employers (Quaker Cadbury family and Lever Brothers) generally cared about employees' well-being and introduced practices that assisted employees in the workplace and life outside of work (Cooper and Robertson
2001
; Newall
2002
). However, most employers at that time held a different view. Regarding employees as a necessity, but burdensome financial evil was a far more frequent phenomenon (Currie
2001
). Social and economic history shows that it took centuries to develop the employment relationship where well-being is recognised as an organisational responsibility (Cooper and Robertson
2001
). However, one often wonders if, under the organisational façade of 'putting people first', whether this attitude is still uppermost in contemporary employers thinking but is being stopped by the now pressing 'best practice' and employment legislation standards, unions, and human rights corporative. This chapter introduces the historical development of employee well-being research and its growth and prevalence in academia and government agendas that focuses on the health and well-being of employees as integral to businesses and the economy's productivity.