01.12.2018 | ORIGINAL PAPER | Ausgabe 12/2018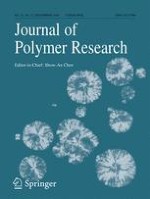 Nanogels of poly-N-isopropylacrylamide, poly-N,N-diethylacrylamide and acrylic acid for controlled release of thymol
Zeitschrift:
Autoren:

Yujia Zhao, Wenxiu Sun, Marleny D. A. Saldaña
Abstract
Synthesis of new nanogels composed of poly
N
-isopropylacrylamide (PNIPAM) and poly
N,N
-diethylacrylamide (PNDEA) at different mole ratios of 100:0–50:50 were performed with constant acrylic acid (AA) content (NIPAM:AA mole ratio of 10:1) by free radical polymerization. The obtained nanogels were loaded with thymol and self-assembled on the surface of chitosan films to evaluate control release of the antimicrobial. The effect of temperature (8–35 °C), pH (2–8), and ions were evaluated on particle size (100–200 nm) and charge (−25--40 mv). With the increasing ratio of PNDEA in the copolymers, the lower critical solution temperature shifted gradually from 33 °C to <10 °C. When pH value decreased from 8 to 2, nanogel shrink occurred. Different ions influenced the hydrodynamic diameters of particles, causing salting out effect that followed the order of Hofmeister series. Thymol loaded within mole ratios of 50:50 of NIPAM/NDEA nanogels had longer release time (>24 h) at 4 °C than that at 25 °C (around 6 h). All thymol loaded nanogels exhibited antimicrobial activity against
E. coli
and
B. subtilis
.