2016 | OriginalPaper | Buchkapitel
SSFS: A Space-Saliency Fingerprint Selection Framework for Crowdsourcing Based Mobile Location Recognition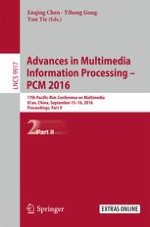 Erstes Kapitel lesen
Autoren: Hao Wang, Dong Zhao, Huadong Ma, Huaiyu Xu
Abstract
With the development of the crowdsourcing technology, it is introduced to collect fingerprints including images and other sensory data for constructing location recognition database. However, when abundant crowdsourced fingerprints with diversified quality evolve, it is necessary to select high quality fingerprints to decrease the burden of storage for performing offline location recognition directly on mobile devices. To address this problem, we propose a fingerprint selection framework, i.e.,
S
pace-
S
aliency
F
ingerprint
S
election (SSFS), considering both the space distribution and image quality of the fingerprints. First, for all the fingerprints corresponding to the same object, we propose the
S
elf-adaptive
S
pace
C
lustering (SSC) algorithm to group them into several clusters for maintaining high diversity of the fingerprint database. Second, for every cluster, we propose the
S
alient
P
art
F
eature
D
etection (SPFD) algorithm to detect salient parts of images with various disturbances for evaluating the quality of images. Extensive experiments demonstrate that SSFS is effective and efficient for fingerprint selection requirement.