27.12.2016 | Original Paper | Ausgabe 2/2017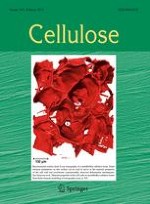 Stability enhancement of nanofibrillated cellulose in electrolytes through grafting of 2-acrylamido-2-methylpropane sulfonic acid
Zeitschrift:
Autoren:

Yangbing Wen, Bing Wei, Dong Cheng, Xinye An, Yonghao Ni
Abstract
This study aimed to improve the stability of nanofibrillated cellulose (NFC) in an electrolyte containing system, which was achieved by the grafting of 2-acrylamido-2-methylpropane sulfonic acid (AMPS) via the ceric ammonium nitrate-induced polymerization process. The results indicated that upon grafting the salt resistance and thermal stability of NFC were significantly improved. Moreover, the stability of the modified NFC increased with the AMPS loading. Compared to the control (the original NFC), the poly-AMPS/NFC (357.5 mg/g AMPS) exhibited much improved stability in a 400 mmol/L NaCl solution, and its viscosity was 350 mPa s. The thermogravimetric analysis results showed that the initial decomposition temperature of the modified NFC increased from 265 to 330 °C. Transmission electron microscopy
(
TEM) observations showed that the main morphologic features of NFC were not altered, suggesting that the grafting reaction occurred on the fiber surface. The modified NFC can have promising industrial applications, such as oil recovery.